STUDIES & REFERENCES
Third-Party Test Results
Vision Alive Max combines 3 patented ingredients - Lutemax® 2020, HiActives Bilberry®, and VitaBlue® North American Blueberry. Not only that this natural formula contains the right, high-quality ingredients and dosage, but we also boast about it meeting both our own stringent quality standards as well as international quality standards.
Vision Alive Max is third-party tested to prove our commitment to providing safe, pure, and effective supplements. Vision Alive Max is tested for heavy metals to ensure the quality and safety of our supplements.

Furthermore, Vision Alive Max complies with the maximum concentration levels of heavy metals in supplements set by international organizations and agencies, giving more confidence to our customers that they only get pure, safe, and quality supplements for their eyes.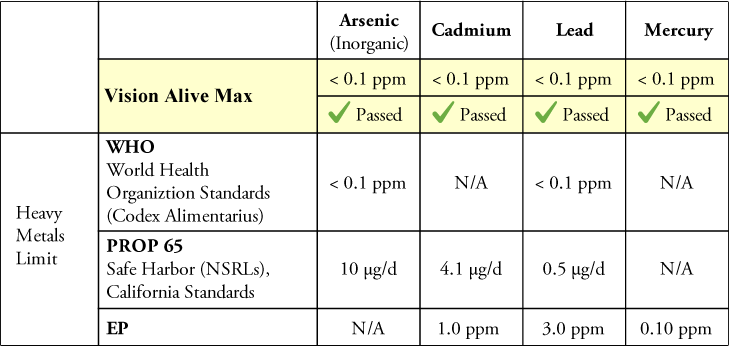 The statements regarding these products have not been evaluated by the Food and Drug Administration. These products are not intended to diagnose, treat, cure or prevent any disease. The information on this Web site or in emails is designed for educational purposes only. It is not intended to be a substitute for informed medical advice or care. You should not use this information to diagnose or treat any health problems or illnesses without consulting your doctor.